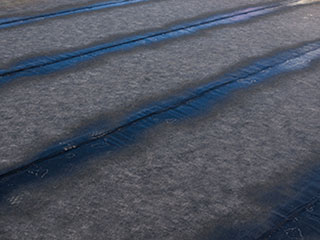 Stop Degradation Now Rather Than Later
While the features outside of your home are bound to endure wear and tear over the years, you can help alleviate some of that struggle with our professional waterproofing services! Water can take its toll over time and cause molding and rot in wood, as well as wearing down and eroding in stone. That's where we come in! Our technicians will add waterproof coating to the areas at risk to avoid them needing repairs sooner rather than later. It'll be completed before you know it!
Professional Deck Waterproofing & Coating
Whatever type of deck you may have, from plywood to concrete, they all should be waterproofed for safety! Plywood, no matter how sturdy, will eventually begin to sustain damage from water. This can cause the boards to swell, begin to grow harmful mold, and start rotting. This harms the integrity of the deck overall and can be dangerous if it's allowed to go on for long. You may think that concrete is safe from those issues, but water will still wear down concrete over time. It may even make it weak enough to sustain cracks and other harm. Tile decks are susceptible to water damage as well, so no matter what kind of deck your home has, make sure it's taken care of with a waterproof coating to be safe rather than sorry.
Keeping Your Retaining Walls Sturdy
The retaining walls in your yard help to keep everything stable, so ensuring that the stones that make them up are protected is highly important. If water is able to penetrate and begin to wear them down over the years it'll weaken the wall overall. This may allow it to start to fall apart and leave you with a big mess. Our team can waterproof the stones of your retaining walls quickly and easily so you won't have to worry.
Under Pavers Waterproofing Solutions
Make sure that your pathways are all just as safe as the rest! They can be particularly susceptible due to the raised pattern of the stones, but we'll get them completely covered in our strong coating material to completely seal them and assure that they're shielded from water for years to come. We can tend to any under stones as well so you can know with certainty that everything is completely protected.
We Offer Decorative Finishes Too
Aside from keeping it safe from water, we can also apply a beautiful decorative finish to the concrete around your home. They don't have to be boring and grey! Instead, we can make them look like a variety of different materials while remaining as solid and sturdy as concrete really is. From brick to other types of stone, we can get your concrete looking like something special while still remaining resilient.
There's No Reason To Wait
Why risk damage to your home's deck and otherwise when you can get it taken care of now and rest assured that it's all protected? Contact Drywall Repair & Remodeling today to schedule your appointment!