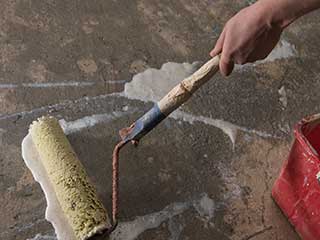 You can extend your concrete deck's lifespan and ensure that it remains protected with our professional waterproofing services! Discover more about our work by reading on.
Protect Your Deck From The Elements
While concrete may be one of the stronger and most durable substances to use for a deck, that doesn't mean that it's invincible to damage. If you haven't gotten it waterproofed already, you should. Water will slowly but surely erode the concrete, especially if it stands on it for long periods of time, and can cause unsightly staining if not worse. It's also more difficult to clean concrete that hasn't been sealed due to being rougher, and the cleaning itself potentially causing damage as well. Erosion eating away at the cement can make it uneven and cuts its lifespan, which is why it's best to just get it sealed!
Sealing Improves Your Deck
Aside from keeping it safe from water damage, sealing your concrete deck has other benefits as well! It makes the surface stronger and safer from skid marks or scratches, which is particularly helpful with kids or pets. It also improves its resistance to ice!
Professional & Fast Service
You can count on our team's years of experience to ensure that your concrete deck will be fully and safely sealed and waterproof once we're done with it! We use the best tools available to first prepare the deck itself for the sealant, getting it cleaned and completely dry before starting so there's no risk of debris or otherwise getting in the way of the sealant itself. Afterward, we'll carefully go over every inch of the deck with sealant, working quickly but thoroughly to assure it's all applied uniformly and there's no missed spots. After it's allowed to dry, your deck will be ready for use again before you know it!
Why Wait Any Longer?
Don't let your concrete deck be slowly worn down by water and damaged! Instead, just call Drywall Repair & Remodeling Los Angeles now and let us waterproof it in no time.