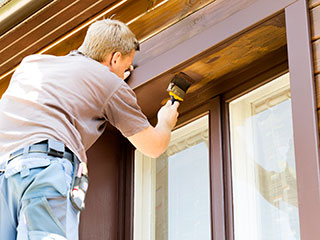 There's no reason to leave your doors or windows looking shabby and unfortunate when we can have them look fresh and perfect again! Discover more about it by reading further below.
Excellent Door Repairs
Not only is a malfunctioning door frustrating and potentially detracting from the overall look of your home, but it can be a security risk as well if it's not properly closing! That's where we come in. If you've noticed any trouble with your door not locking right, that it seems to be sagging, or any other trouble, just let us know. We can replace locks that are no longer working as they should or fit a door with a new one if you'd like one put in, repair hinges that may be rusted or coming undone, and provide maintenance in general to keep the door working right. If your door has somehow gotten jammed, we can free it for you! We take care of sliding doors as well as ones with motors, so you won't have to worry.
Fast & Easy Window Repairs
Windows that work properly are also important for the home, both for safety purposes and for letting in the fresh air so things won't get too stuffy. If you find that your windows are sticking, have gotten jammed, or any other issue, just contact our professionals! We work with a wide variety of types such as vinyl, aluminum, and glass. Whether it's a regular home window, one in the basement, or at your company building, we'll be able to tend to it.
Reliable, Professional Services
We've been working on windows and doors in the area for years, so you can count on us to take care of yours like they're our own! We use the finest equipment available to ensure that your door or window will be properly repaired and that it will last for years to come.
Don't Wait Any Longer
Why continue struggling with a broken door or window when you can call Drywall Repair & Remodeling Los Angeles for fast repairs? Call now!