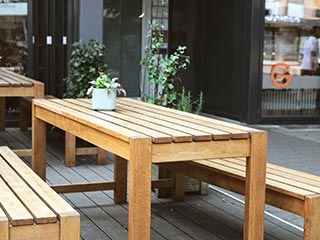 Beautiful wooden decks have become a staple for many Los Angeles area residences. But you can actually achieve that beautiful aesthetic at a far more affordable cost, and with better longevity too. How? With composite Trex decking, of course! Trex offers you a variety of wood-like designs, without the maintenance needs and repairs that real wood decks often accrue. Custom-built Trex decks with rails, stairs, and all sorts of other features create an attractive aesthetic that stays waterproof and resistant to the elements all year round. Save money, effort, and time, by getting a free estimate on Trex decking from our local Los Angeles contractors. We build custom Trex decking with all sorts of features and offer customers a range of designs to choose from and customize.
Trex Decks With Railings
Safety is paramount in your home, both indoors and outdoors. A beautiful new custom-built deck adds a lot of aesthetic and utility to your yards, but you need to make sure it doesn't pose any dangers. That's where deck rails become so useful. You can encircle the platform and prevent anyone from falling off accidentally. Of course, some might consider a simple line blocking the view to be an eyesore. However, Trex railings come in a variety of designs making them a great addition to your Los Angeles deck. With the composite material they're made from, Trex deck rails maintain their aesthetic appearance and design for a long time to come. You can pick all sorts of ornate designs that elevate the elegance of the deck. Or you can go for something simpler, with textured colors that still give something to improve the aesthetic.
Above Ground Los Angeles Pool Decks From Trex
One of the most common uses of a composite wood platform is to serve as a pool deck. A ground-level platform can blend with the grass or hardscape of patios and courtyards. But for those looking for a more unique aesthetic for their Los Angeles properties, above ground pool decks can prove beautiful. With the elevated Trex deck with stairs, you can create a pool area that stands a foot or higher above the ground level. This goes a great way towards preventing accidents, as you can surround the above-ground Trex pool deck with pavers, bricks, or other hardscape designs. Thus, you create a unique landscape design that also adds safety to the area.
Multi-Level Trex Decking Platforms
The addition of steps to a deck that stands above ground can go a long way in terms of design. Trex decking with steps can form a beautiful porch leading up to your home, or a wonderful extension of backyard patios, to name a couple of options. The classic single layer option works for some people, but those looking for a bit more extravagance and style would do well to check out our selection of more complex design options. Multi-level Trex decks sport a beautiful design that can adjust to fit your landscape. This makes for a great way to improve curb appeal as well as raise the monetary value of your property.
Composite Decks Custom Built (Free Quotes)
The use of composite materials over real wooden decks comes with many benefits. Real wood needs constant maintenance and can suffer from warping, rotting, and even insects burrowing inside it. Trex decking, made from a combination of composite materials, avoids those hassles without sacrificing quality or looks. The attractive beauty of smooth wood-texture Trex decking can enhance the décor and curb appeal of many properties, residential or commercial. The durability and low maintenance of Trex decking, multi-level or single layer, makes this composite material perfect for such platforms. Interested in more info on the different decking, Trex or real wood, we can offer you? Start by scheduling a free estimate on Trex decks from our nearby Los Angeles deck contractors.