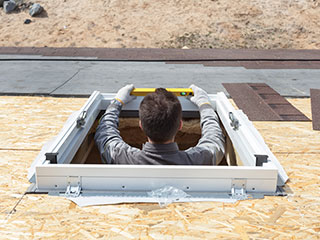 A new door or window can make all the difference in sprucing up your home and giving it a brand-new look to be proud of! Learn how we can help by checking down below.
Beautiful Door Installation
Whether you need a new door for your entrance, or one of the many ones throughout your home, we'll be able to assist you in finding the perfect style and look that will suit the overall look. We can install various types of doors such as single or double entry, sliding doors, and more. It's important to not only find one that matches the look of your home, but one that's appropriate for the area it will be in and enhance the privacy and safety of the entrance depending on which door it is. We'll measure so that the door will fit perfectly and avoid any leaks of heat or air conditioning as well so there won't be any energy waste.
Window Installation You Can Count On
Windows are an important component to the overall aesthetic and style of your home, as well as for safety! That's why we'll work with you to find the right type of window that will suit both the exterior and interior overall look of your home. You can rest assured that they will be properly secured with sturdy locking mechanisms as well so you know your house will be safe! With new and beautiful looking windows, your home will be more appealing to visitors and any buyers as well if you're looking to sell.
Trustworthy, Efficient Service
Our professional team will work hard to ensure that your new doors or windows are installed swiftly and excellently. You don't want to be stuck waiting around for long, especially if it's an exterior component that's leaving a gap to the outdoors in the process! We'll have them put in as quickly as possible and looking gorgeous for you.
Call Our Team Now
Contact Drywall Repair & Remodeling Los Angeles for all your door or window needs!