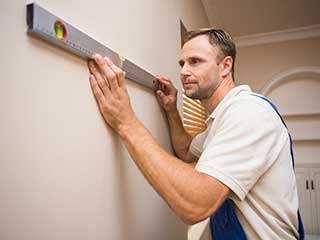 Drywall is not only versatile and easy to use, it is also a cheaper and safer alternative to many other construction materials used for interior lining. As beneficial as it is, it's not invincible, and can become damaged due to a variety of issues, including boisterous children.
Nail Holes Everywhere

Let's face it, we're all guilty of banging nails into our walls to hang pictures and other decorations. We try to do so sparingly to minimize the damage, but sometimes we end up with a few more nail holes than we'd like there to be. Have you ever hammered nails into the wall only to realize it's in the wrong spot? If you have, all you need is some drywall joint compound and a spatula and you can easily patch up these tiny holes and then paint over them. You can also do this for other holes in your walls, provided they aren't larger than a coat button. If you do have a larger hole, you have a bigger problem to fix, and you better call our experts to get some help.

Oops! It Was An Accident

Children can be very unpredictable. Kids can be roughhousing, playing a game of indoor football, and end up damaging some part of your drywall panels. This type of damage requires a lot of skill and knowledge to repair. Depending on the position of the hole, the damage may be cut out and patched it up with a new piece of sheetrock. Otherwise, you could be looking at replacing the whole wall. Drywall hanging is best left to the experts (like us!), in order to ensure that it's done correctly and that no gaps are left.

Water Damage Repair

Drywall panels that have been damaged by water can be a messy nightmare. This could be the result of faulty plumbing, burst pipes or a recent storm could have blown off a roof tile, making an opening for rain to get in. Whatever the reason, soggy drywall sections will need to be replaced. The first thing to do is remove the damaged sheets and identify the problem. It's also a good idea to make sure the area behind the damaged plasterboards is left to dry completely before new drywall installation is carried out, to avoid moisture being trapped behind the new panels. If you want our professionals at Drywall Repair & Remodeling Los Angeles to help you with this process, give us a call today.