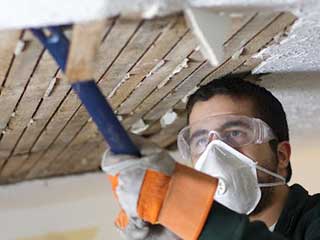 Don't Leave Your Ceiling Looking Poorly
While your ceiling's drywall is much thicker and sturdier than what's used for your walls, you may still find that it winds up with damage over time. Whether just the wear throughout the years, settling, or an accident, cracks or holes in your ceiling are hugely distracting and can even be dangerous if pieces begin to fall down. They're slightly harder to mend than walls as well due to their unique nature, which is an even better reason to allow the professionals to handle it for you! It'll be done before you know it and your ceilings will look pristine again.
Smooth Surfaces Are No Issue
When you want an experienced team that will ensure that the patched-up portion of ceiling is undistinguishable from the rest, we're here to assist you! We'll first check to ensure there's no pipes, wires, or studs in the area to be concerned about before even getting started, as well as determining how far the damage reaches through the ceiling overall. The harmed portion of the drywall will be removed completely, and the new piece of appropriate thickness will be measured and cut to size. Once the new piece is secured into place with drywall screws, we'll use our specialized compound to smooth over the joints and screws. It'll be all finished after a prime and paint!
We Fix Textured Ceilings Too
While they take a bit more time and attention to repair than smooth ceilings, our team will take care of it just as easily for you and quickly as well. We'll scrape and remove the textured paint from the area so it won't wind up mismatched afterward before taking out the damaged part of the ceiling. After the spot is replaced with a new piece, we'll then use a textured sleeve paint roller to finish up.
It's Time To Schedule Your Appointment
Call Drywall Repair & Remodeling Los Angeles today and find out how we can restore your ceilings' drywall back to fantastic condition in no time!