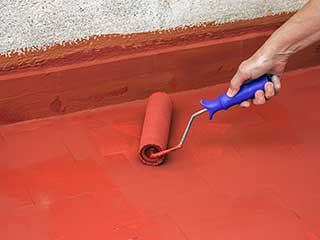 Applying concrete floor coating is the easiest and best way to protect against wear and tear for certain areas of both the home and business! Look below to find out how our professional team can tend to it in no time.
Patios, Basements, & More
Concrete floor coating can be a lifesaver for certain areas of your home that may be exposed to the elements, have a lot of activity on them, or simply need to be easily cleaned. It's customizable so you can find a shade of color and texture to suit your tastes and having the area looking beautiful! For patios it will help protect against spills, mold or mildew, water from the elements, and any bleaching from the sun itself. The same is true for the pool deck, and it will help resist any issues with slipping and falls as well thanks to the texture. Your basement doesn't have to look dim and shoddy either! A fresh coating of concrete will allow you to use the area for whatever you'd like without risk of damage to the floor, and is low maintenance and easy to clean so you won't need to worry about it.
Great For Businesses
Whatever type of business you have, from something industrial to a kennel, concrete is the best way to keep everything looking clean and knowing that it will withstand whatever you bring its way. If you have a lot of people walking on it, or even need machinery to be able to move over it, concrete coating will remain sturdy and resist and damage. The lack of maintenance needed will allow your employees to take care of everything else easier, and if a spill happens it'll be quick and simple to clean up.
Quick, Professional Installation
Concrete coatings don't take long at all to install, so there's no need to worry about it taking up a lot of your precious time. Our experts use the best tools and materials available!
Call Us Today
Contact Drywall Repair & Remodeling Los Angeles to schedule right away!