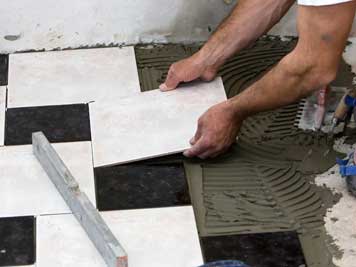 Beautiful & Easy To Maintain
Tile is a great addition to the kitchen, bathroom, or otherwise for many reasons. There is a vast array of types and looks to suit any need or style, so you can keep your home looking modern and fantastic. Tile is waterproof and therefore will refrain from getting any water damage, as well as making it extremely easy to clean. It's an extremely durable substance as well and will protect whatever it's covering from walls to floors far more than most materials would. If you or anyone in your family have troubles with allergies to certain types of materials, tile is hypoallergenic too! It really is an overall win-win for your home.
What Types Of Tile Are There?
Our team can work with an array of popular types, such as ceramic, natural stone, glass, glazed porcelain, and more. We'll work with you to determine which is best suited to the area!
We'll Handle Everything For You
Installing in tile can be quite the process, so it's best to allow professionals to take care of it to ensure it's done correctly and will look even and lovely once completed. We use a ledger board that will keep the tiles even and in place as the adhesive dries to avoid any problems with slipping, as well as clean the walls to assure the adhesive will work properly. It's also important to assure that the wall is completely flat and that there's no dents or other imperfections that may alter the lineup of the tile. The layout of the tile pieces will be planned and set out in order before starting to use adhesive to attach them to the wall and press them into place with our special equipment and spacers to ensure they're evenly placed. After the adhesive is allowed to dry, we'll put in the grout and your tile will be completed!
Exterior Design Options
Tiles can give the interior parts of your property a beautiful look, but if you're looking for exterior additions and improvements, we'd recommend that you go with pavers. Because they can be made from more durable materials, like concrete, brick, and limestone, they will last for a long time. As for customization, we can assure you the variety of design options is just as extensive. If you're interested, the paver installation experts in Los Angeles that our team works with will be happy to help you.
It's Time To Schedule An Appointment
Call Drywall Repair & Remodeling Los Angeles today and find out how we can get that new tile look put in right away!