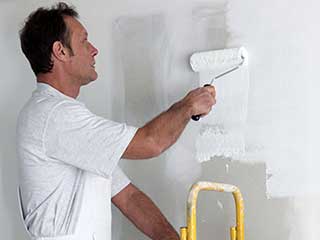 From wanting a fresh look, to getting rid of cracking or peeling, we can assist you with our professional painting services both inside and out! Find out further information below.
Careful, Beautiful Interior Work
No matter what room is in need of some attention, or if all of them are, our experts are here to take care of them before you know it! We use the finest equipment and paints as well as years of experience to provide a close attention to detail as we work. Bathrooms will be bright and can match whatever theme you may have, and kitchens will suit the oven and other components already in place. From children's bedrooms to creating the perfect environment for a living room, paint really does make all the difference! Over the years paint can get chipped and worn, or maybe you're simply tired of seeing the same colors daily! Whatever the case, and whether it's the home office or your own bedroom, we'll take careful care to get them looking like new again for you before you know it. From a dreamy dining room makeover to a welcoming new foyer, you can rest assured the work will be beautifully and perfectly done!
Exterior Painting You Can Count On
The outside of your home is hugely important for first impressions, and unfortunately bound to get damaged over the years thanks to the elements. It's a big job to take care of, and requires expertise to ensure that there are enough coats and precise application to avoid bubbles or inconsistences. That's why our professionals are here to help! We'll take care of everything for you in a timely fashion while still ensuring it's done beautifully.
Color Consultation Services
Unsure of what color you want for a certain room, or struggling overall with deciding? Our experts will work with you to find the tone and shade that perfectly suits any room, or the exterior as well. We take into account your tastes and wants as well as furniture to find the right fit.
Schedule An Appointment
Get your home looking fresh and lovely again with our painting services! Contact Drywall Repair & Remodeling Los Angeles now.