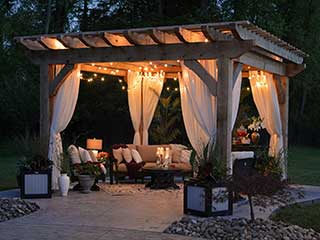 A patio gazebo can give an amazing benefit to your Los Angeles area home or business property. Outdoor shade structures are always a great addition since they provide an easy way to enjoy the outdoors without dealing with harsh glaring sunlight. Pergolas with canopies (motorized or attached) are another great example because they also make for aesthetic enhancements of your porch, patio, deck, or other areas. We build our outdoor shade structures to remain as both beautiful and effective additions for many years. Our custom designs and high-quality materials ensure quality. And our low prices make us the perfect choice for your new local patio gazebo or pergola builders.
Custom Outdoor Shade Structures
We offer an enormous selection of different options when it comes to gazebos and pergolas. Your imagination and taste stand as the limits, and we can accommodate any gazebo or pergola idea you may have in mind. Our product range is designed to provide maximum flexibility as well as total quality at every stage. That means whether you're looking for an outdoor kitchen, or an above ground pool deck to go with the new outdoor shade structure, we can deliver it. Deck pavilions are a common request too. And we have everything needed to seamlessly integrate with your existing deck or patio area. An outdoor shade structure, custom-built to your specifications, will add utility as well as style to your Los Angeles residence or outdoor business space. Discuss further details with our deck pergola and gazebo contractors, and receive a free estimate for your troubles.
Los Angeles Pergola Builders
A custom cedar pergola can make for a perfect addition to one home, but maybe less for another. Maybe a pergola with a motorized canopy would look better for your Los Angeles patio or deck? Perhaps you'd like a pergola with lights and mosquito nets? These options are all available with our amazing custom pergola design ideas. Our professional contractors offer an amazing level of customization on all our outdoor shade structures. One of the most popular products is the pergola with a canopy because it combines the beauty of pergolas with effective protection from the sun. You can easily draw the canopy across, or push the remote control button to have your motorized pergola canopy roll itself. A pergola with a motorized canopy is a very popular project we get asked to build.
Gazebo Designs For Any Los Angeles Deck or Patio
We offer total flexibility when creating your new patio gazebo. Want a custom-sized wood gazebo? No restrictions on what you can specify. Many homeowners opt for a square gazebo with a 10 x 10 build. But there are no limitations on larger or smaller gazebo designs. Outdoor shade structures serve your needs and protect you from UV rays and harsh sunlight. They need to sport whatever features you deem important or desirable. A gazebo with mosquito netting is a common request. Why? Because this additional protection from insects makes for a welcome utility improvement. Los Angeles homeowners often choose a gazebo with lights. That way they can enjoy their decks or patios well into the evening and night. Gazebos with walls are also very popular. These outdoor shades structures have proven a great way to blend this outdoor living feature into your existing patio or deck décor.
Cheapest Custom Gazebos and Pergolas Near You
Get the best prices on patio gazebos and deck pergolas (or any other outdoor shade structures you want). Our amazing range of custom gazebo and pergola designs make it easy for any Los Angeles area customer to find something for their residential or commercial property. Whether you want a cedar pergola or a totally custom-built gazebo, we can offer you a durable and beautiful setup. Learn more about our customizable outdoor shade structure with a free estimate in-person.