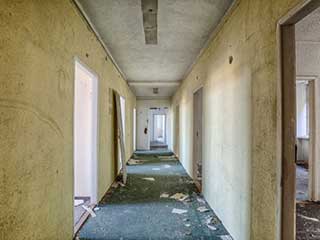 Get Your Home's Drywall Tended To
Whether your child accidentally hit a toy into the wall too hard, or cracks have appeared over time from settling, our experts can take care of getting your drywall repaired in no time. Even just the smallest hole from a nail or otherwise can be extremely noticeable and draw the eye, taking away from how beautiful your home is! These issues can also get worse over time depending on the severity, so it's best to get it fixed up now rather than later on.
We Use The Finest Materials
After a thorough inspection of the area to locate all of the problem areas, we can then get to work on patching them up! For smaller holes we can simply use spackle to fill them completely, larger ones take a bit more finesse. We'll smooth out the outside of the hole, then cut a new piece of drywall to the appropriate size. The new piece will be put into place with spackle and allowed to dry. Afterward, the area will be sanded down so it's perfectly smooth! Our experts use the best tools available so you can rest assured that these repairs will last you for a very long time, while not taking too long to be completed either!
Don't Just Paint Over It
While you may think that just painting over the problem will cover it up, this isn't the case! In fact, this usually only serves to make the issue all the more noticeable. Allowing us to quickly come out and get the trouble repaired and then painted over will make your walls look far better and smoother overall. It'll take less time than you think, and we're affordable too! You'll only regret not having us take care of things sooner.
Call Today To Schedule Your Appointment
Why leave dents, holes, or otherwise in your drywall when we can make them vanish like they were never there? Contact Drywall Repair & Remodeling Los Angeles now to find out more information.