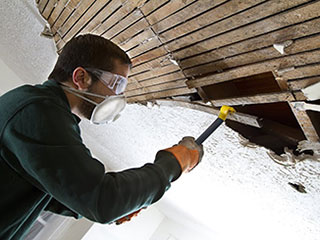 What Is A Popcorn Ceiling?
Popcorn ceiling refers to a type of texture that older homes built in the 70s and 80s tend to have, so called for the small rough bumps that cover the surface. At the time they were put in because it helped give an added layer of sound reduction, but modern homes have better and more aesthetically pleasing ways to handle this to avoid this technique.
Why Get It Removed?
There are multiple reasons for this, one of the biggest being that it's no longer considered the style of current homes. This is especially important if you're considering selling one day, most potential buyers will avoid homes with these types of ceilings. Even if just for your own benefit, these types can yellow with age and especially if any water damage occurs, making them more of a hassle than regular smooth ceilings.
Let The Professionals Handle Things
The process of removing popcorn ceilings can be difficult, especially if they've been painted which adds a step to the process. Another concern is that these kinds of ceilings were made with asbestos in the 70s, so if your home is that old it will have to be tested and even further precautions will have to be taken for safety. In any case, it's a messy job so we'll carefully cover all of your furniture and the room in general in plastic so we can leave it clean once we're done. If it's unpainted, we'll use water to dissolve the texture to remove it, otherwise it will require dry-scraping and much more effort. After it's removed, we'll smooth out the substrate and sand it to get it filed down properly in preparation for priming and then putting on the finishing coat.
Get It Taken Care Of Today
Call Drywall Repair & Remodeling Los Angeles now to schedule your popcorn ceiling removal at a time that's best for you. We can get your home looking more modern and beautiful before you know it! You'll only wish that you called sooner.