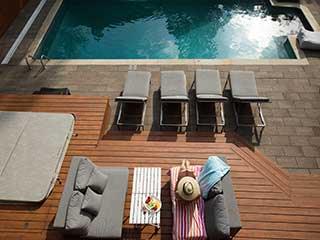 Anyone who has owned a traditional wood deck can tell you that they need a lot of looking after. Without regular maintenance, wood will often rot and warp. This means time-consuming and costly deck repairs. However, modern composite decking requires next to no maintenance. A composite deck is extremely resilient to the problems that wood falls prey to. Options such as Trex decking are therefore an extremely good option for Los Angeles area property owners. We supply and install custom composite wood decks with any feature you choose. From composite deck rails to stairs to above ground pool sections and all sorts of attached or freestanding deck canopies. Find out about the extensive range of design options that we provide, as well as our professional installation services.
Fast Composite Deck Installation
Many homeowners think of a new composite deck as a very disruptive experience. With us, though, you'll see that this doesn't have to be the case. We are the go-to composite deck builders and installers near Los Angeles, we have many years of experience to back it up. Our deck installers have worked on all sorts of composite decking projects. Therefore, this lets us work quickly and confidently when installing new decking, composite, or otherwise. There's no job too large or too small. This includes multi-level composite decking projects. We offer free quotes on all our work, too. So you can find out about our low prices with no strings attached.
Providing Maintenance For Composite Wood Decks
Our composite decking contractors in Los Angeles have been installing and fixing these platforms for many years. That means we can easily provide solutions when things go wrong. Bent or broken composite deck railings can get replaced. If you need replacement deck lighting, our contractors can install a new set for you. We stock brand name products from the best providers on the market as well as build custom composite decking per your request. So you'll always get top quality at a great price. Our deck maintenance services help you keep your platform presentable for many years to come. We paint, patch, repair, and do everything else to tend to everything from minor scrapes to big breaks and damage.
Affordable Deck Repairs In Los Angeles
Although composite decking remains very strong and durable, it can still get damaged over time. This often occurs due to accidents. If you need new Trex boards or repairs for composite decking made from any other material, we can help. Our team will assess the situation, then solve the problem for you. Our deck contractors know how to quickly remove and reinstall decking of all types. So we can quickly get your composite deck back to full working order. Repairing broken composite decking can provide difficult to the inexperienced. However, all our local Los Angeles deck contractors bring over a decade of work experience to the table. Our deck repair service specialists ensure a fast solution at an inexpensive cost.
Beautiful Custom Composite Deck Designs
The sky really is the limit. With our fantastic custom composite deck options, you can give your Los Angeles property a new patio, porch, deck, or other additions that look and stay beautiful all year round. We offer deck railings in a massive range of designs and colors, to suit any nearby property. You can create a huge multi-level composite deck if that's what your property needs. Our team of contractors also installs above ground pool decks, providing a safe and enjoyable space for your water activities. If you only need a small platform, we provide deck installation for even the smallest project. You'll always get our best prices, and with our cheap deals on composite wood decking, you're going to be happy with the cost.
Arrange A Free Estimate
Why just think about what composite decking will best suit your needs? We provide free estimates on all work. So get in touch with us and talk to a professional deck installation contractor near Los Angeles for all the details and info. Our low rates and high-quality work make for an amazing combination. Your new custom composite deck can sport any color or features you want. See all options and get a free quote by booking a no-obligation consultation.