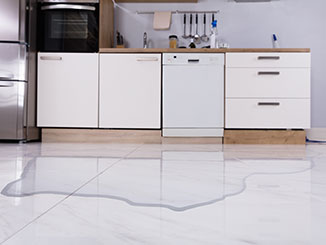 Ensure Your Home Gets Professional Assistance
The unexpected happens whether we like it or not, and you may find yourself dealing with a sudden flood whether from natural methods, a pipe bursting, or otherwise. Proper treatment of any parts of your home exposed to the water is vital to ensuring that all the damage is taken care of and there's no chance of things like mold growth affecting your home down the line. Water damage can also weaken structures and leave them more liable to break, so it's best to get them tended to as quickly as possible. That's where we come in!
Professional Water Damage Restoration
Wherever the damage has occurred in your home, we can get it all restored to its former state for you. We use only the finest tools and materials in order to ensure that that the restoration will be thorough and last you for a long time. Our trained team will come out right away and assess the situation to determine the extent of the harm to your home so we can decide on the best solution to take care of everything, including putting a stop to the source of the water. Special equipment is used to dry and dehumidify the affected spots to avoid issues with swelling or further damage. After cleaning up, we can then set about repairing and replacing things like drywall and otherwise, as well as painting and other services to fully restore your home.
Is The Problem A Sewage Backup?
Sewage oozing into your home presents a particular problem of more than just regular water damage, as there's a strong concern of both contamination as well as foul odor. This type of leak is all the more pressing to get treated by the professionals to avoid disease spreading through your home as well as toxic stench. We can not only apply the usual methods of dealing with water damage such as drying, cleaning, and repairs, but more specific services for this issue. Our team can decontaminate as well as deodorize the affected areas so you can rest assured that there's no risk of health concern or a lingering awful smell.
Water Extraction Services Available
Is the water still lingering, or is your whole basement full of standing water? Don't worry! We can tend to it for you. We have powerful, professional equipment that will remove all the water pooling through your home to take care of the issue quickly and effectively to prevent any further damage.
Do You Have An Emergency?
Just tell us! We offer emergency water damage restoration services and will come out immediately to take care of the problem and ensure the safety of both your home and your family as well. Some cases of water damage are simply too serious to wait, so don't!
Why Put It Off Any Longer?
Our friendly experts at Drywall Repair & Remodeling Los Angeles would be glad to take care of any and all of your home's needs! Just contact us today and get your appointment scheduled before you know it.