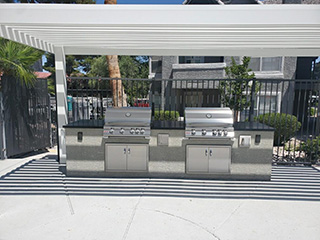 Enjoying the breeze and lounging out on your backyard deck or patio can be fun and pleasant. Shame you have to go back inside to eat and cook meals, though. Well – good news. With an outdoor kitchen in your Los Angeles patio or deck, you don't need to do that. Outdoor kitchens let you prepare and cook food outside, in the comfort of your patio area, with shades above and the open air around you. Custom-built outdoor kitchen ideas can come in all shapes and sizes, with different outdoor living features to make them more ideal for your needs.
BBQ Islands – Food Preparation & Cooking
From cutting tomatoes to chopping onions, a paved BBQ island can make your outdoor kitchen flourish with utility. You can even have a BBQ island with gas stoves, ovens, and all sorts of other additions, including water features and sinks. You've got all sorts of materials to choose for your new outdoor kitchen BBQ island and grill station. You can pick fireproof bricks in all sorts of colors, pavers, or even smooth materials like stone and concrete. You can also go with wooden outdoor cabinets or composite alternatives for low maintenance and affordable options. A BBQ island in the outdoor kitchen of your Los Angeles patio will elevate eating outside to a whole new level. You can prepare everything outside, thus continuing to enjoy the breeze and ideal settings all the way up to (and including) the meal.
Outdoor Cabinets For Patio Kitchens
This option can go hand in hand with an outdoor BBQ island and grill station. Outdoor cabinets can add a lot to your Los Angeles deck or patio area. They make for excellent storing options, especially when made from low maintenance materials with excellent resistance to the elements. Composite outdoor cabinets can mimic that beautiful wooden look without suffering from rot, warping, or other moisture issues. Brick and paver outdoor cabinets remain sturdy and reliable for years. Combine them with a stone countertop and you can prepare food with style!
Custom Outdoor Kitchen Ideas
Building a new kitchen for an outdoor patio or deck lets you exercise creativity. Our local Los Angeles deck contractors have the experience & skills to handle a wide range of projects and outdoor kitchen design ideas. Choose all sorts of cabinets, paver structures, water features, and other deck additions to combine with your custom outdoor kitchen set. Designate a place for a weber grill and we'll build you an adjacent food preparation station, complete with gas stoves, ovens, fridge spots, and anything else you want. With sufficient cover provided by your motorized patio shades, you can cook outside even in the middle of the day without worrying about the harsh sunlight. Not sure what to go for? We have plenty of design knowledge to help with outdoor kitchen ideas that will improve your patio or deck in multiple ways. And it all stays affordable!
Free Quotes On Los Angeles Outdoor Kitchens & Living Features
See our wide range of custom-built outdoor kitchen ideas and customize each option to best suit your Los Angeles deck, patio, or other outdoor areas. Our professional contractors will happily sit down with you to provide a free consultation and quote on decks, patios, outdoor kitchen sets, and a lot more. Meet with our experts, tell us what you're looking for, and we'll help you bring that idea to reality. Use the online contact form or call anytime to schedule your free estimate appointment.