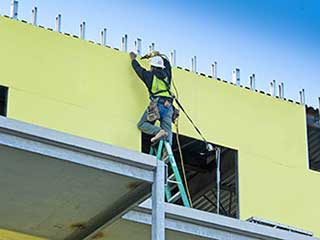 First impressions can make all the difference, so make sure your building is giving the best one it can by keeping the paint looking sharp both inside and out! Learn how we can assist with that below.
Quick & Reliable Services
As much as you want your company's building to be looking its best, you also can't afford to have painting take very long and be too distracting for your employees, let alone customers and clients. We completely understand this, which is why we work hard to have it all done swiftly while still retaining fantastic quality. Thanks to our years of experience and use of the finest tools and materials available, you can count on us to have the exterior or interior of the building painted and looking like new again before you know it. That way there's no concern of work slowing down, or employees being inconvenienced in the process.
Color Consultation Available
It's vastly important when it comes to the work place to find a balance between not too dull, and not too distracting when it comes to the paint color of the interior. The exterior must also be stylish without being too overwhelming. If you're uncertain about what to choose, our professionals can provide color consultation services that will assist in finding the perfect color both inside and out.
Concrete Sealing, And More
If your building has a lot of concrete involved with it, don't worry! We can help with that as well. We offer sealing services to keep it from being worn or damaged by the elements, as well as staining or epoxy finishes to give it a new and fresh look. This way your business' concrete will look great and have its lifespan increased so you won't have to worry about it for years to come. We'll have it all safely and easily tended to right away!
Contact Our Team
Call Drywall Repair & Remodeling Los Angeles and find out how we can give your company's building the fresh new look it's been needing quickly and affordably with our painting services.