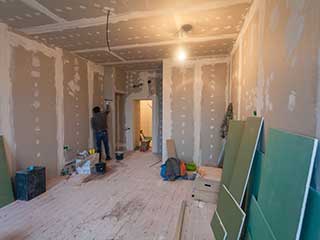 Get Your Dream Home Today
There's no need to wait any longer to give your house the upgrade you've been longing for! We provide a wide variety of services to achieve the look you've been wanting before you know it. Whether it's for yourself, or to enhance the curb appeal to sell, there's no better time than the present to put your vision into place. We'll work closely with you every step of the way to ensure that it's exactly what you're looking for, and can even help with layout designs if you're stumped! We're here to give you a hand in rejuvenating your home's look in no time.
Spruce Up Your Bathroom
Your bathroom should be a bright, fresh room so you can leave it feeling good every time! Our professionals can help by upgrading everything from the bath to the counter and anything in-between. If you're looking to have a spa in your own home with a jacuzzi bathtub and luxurious aesthetic, or if you want something simple and minimalistic, we can get it suited to your tastes in no time at all. When it comes to bathroom remodeling – we do it all!
It's Time For New Cabinets
The cabinets around your home are bound to get a bit battered over the years from use, as well as potentially outdated! Don't worry, because we're here to help. Whatever the style or type you're interested in, we offer a variety of brands, options and materials and will be able to implement that perfect style you've been searching for. We use only the highest quality veneer and materials for your new doors and drawers so that they'll last you for years to come.
Need Some New Woodwork?
We're proud to offer the finest carpentry services around, from framing, roofing, and much more. If there's a new wall you'd like to be put in, we'll build it so you would never be able to tell it wasn't there to begin with using the finest equipment and materials available. Our experts can also add new trim to doors and walls, or remove it if you're looking for something different. Wood molding is no problem to install, and will give your home an elegant new feel!
Kitchen Remodeling Is A Breeze
Make your kitchen the pride of your home with our lovely remodeling services! We'll implement the best of the best with modern appliances and looks while still suiting the style that you want and matching your home overall. From new sinks and countertops, to adding or removing an island to give a drastic new feel, we can tend to everything for you. New flooring from wood to materials that are easier to clean such as glazed ceramic are available too, and new closet space and doors can also be implemented. Whether you desire something sleek and stylish, or a more rustic and homier feel, we'll get it done and without you being stuck without your kitchen for long.
Call Our Experts Now
Drywall Repair & Remodeling Los Angeles is here and ready to assist you in upgrading your home from drab to gorgeous! Contact our team today to find out more.