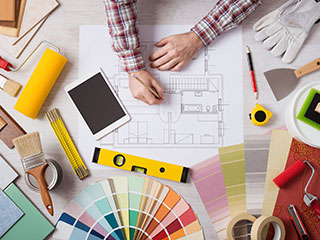 When it's time to repaint the rooms in your home, or the outside of it as well, finding the right paint color makes all the difference! Learn how our team can lend you a hand below.
You'll Be Involved In Every Step
Have no fear of us coming in and taking over, you'll be very much a part of the process! Nobody knows your home better than you do, and we want your help to ensure that we determine the perfect shade for any room or exterior so you'll end things satisfied. You are also just as much a component of your home as the furniture, so the color should suit you as well as the rest! Working together to come to the right decision will result in a home that you can be proud of.
Fast & Thorough Assistance
We understand that you don't want to waste a whole lot of precious time holding up swatches, but don't worry! The process will only take as long as you want it too. If you'd like to take your time with each and every component and detail, or want to just move things along, we'll accommodate you. It also depends on the scope of the project such as how many rooms or how big your home is, but in the long run it mostly relies on what you want out of it.
A Professional Gaze
Our experts have been working in this field for years, so you can count on them to have the knowledge and forethought needed to help you find the right color for your home. There's no need to worry about us trying to force our tastes onto yours, we're here to enhance your vision, not ours! We'll take into account everything from the rugs and belongings, and determine a color that will last and look fantastic for a long time.
Take The First Step
Contact Drywall Repair & Remodeling Los Angeles today and let us help get your home looking beautiful with our excellent color consultation services. You'll be glad you did!